Content
Home
Articles
Gallery
Books
Lego
Personal
Links
Help
Gallery
Top Picks
Androbot
Pre-buy Topo
First Topo pictures
Paris Trip
Rob 40
London Trip
Athens Trip
South-africa Trip
Paris Trip 2003
Marcella 40+
Frans 75
Orlean Trip
Korean Trip(s)
Paris Trip 2004
Topo II pictures
Winter in Gouda
London Holiday
Second Topo II pictures
Australia Trip
Dubai Trip
Spring in Holland
Summer in Holland
Burgers' Zoo
Janse Bagge Bend
Doreen 40
Western USA Holiday
Jamaican Holiday
This page contains pictures of my second Androbot robot. This a Signature Edition TOPO II robot with Sound. It has serial number T2401338.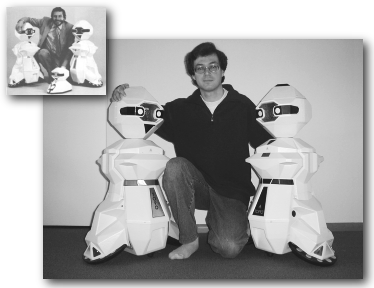 ---

These are pictures of the robot itself.

---

Here are some details of the robot. The first picture shows the Back Control Panel with the disclaimer text. The second shows the engraved plaque signed by TOPO's inventor Noland Bushnell (the founder of Atari) and the serial number. The third picture shows the Headswitch on the head of the robot. This switch can be used to move the robot manually. It also contains the infrared tranciever.

---

The following pictures show the Base Communicator that allowes a Apple II computer to control the robot remotely by infrared.

---

This is the original box that TOPO came in. Original TOPO came in 2 boxes, but being an 1983's robot it is extraordinary that this one box is in such a good condition.