Content
Home
Articles
Gallery
Books
Lego
Personal
Links
Help
Gallery
Top Picks
Androbot
Pre-buy Topo
First Topo pictures
Paris Trip
Rob 40
London Trip
Athens Trip
South-africa Trip
Paris Trip 2003
Marcella 40+
Frans 75
Orlean Trip
Korean Trip(s)
Paris Trip 2004
Topo II pictures
Winter in Gouda
London Holiday
Second Topo II pictures
Australia Trip
Dubai Trip
Spring in Holland
Summer in Holland
Burgers' Zoo
Janse Bagge Bend
Doreen 40
Western USA Holiday
Jamaican Holiday
This page contains pictures of my third Androbot robot. This a Signature Edition TOPO II robot with Sound. It has serial number T2312036.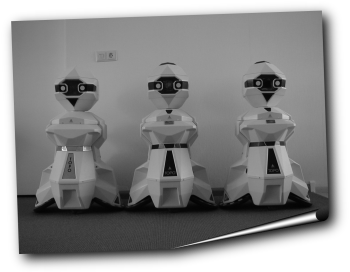 ---

These are pictures of the robot itself.

---

And here are a couple of family pictures.

---

Here are some details of the robot. The first picture shows the engraved plaque signed by TOPO's inventor Noland Bushnell (the founder of Atari) and the serial number. The second picture shows the label at the underside of the robot with a disclaimer text and full serial number.

---

The following two pictures show the Battery Monitor PCB. It is mounted to the back of the robot.

---

The following pictures show the Mobile Transceiver Sensor. This is the board that is mounted in the Headswitch on the head of the robot. This switch can be used to move the robot manually. It also contains the infrared transceiver consisting of 4 infrared photodiodes and 15 infrared LED's.

---

The following pictures show the Motion Controller Board. The name would suggest that this board controlles the two drive motors.

---

The following pictures show the Communications Board with and without the daughter board.
The Speech Module daughter board. It features the Echo II Speech Synthesizer from Street Electronics Corporation, which is implemented using a TMS5220 Series Speech Synthesizer from Texas Instruments.

---

The following pictures show the Encoder Boards. These are mounted on the drive motors and provide the speed feedback for the Motion Controller Board.