Content
Home
Articles
Gallery
Books
Lego
Personal
Links
Help
Lego
Airbike-T
Airbike-T Mark 2
Airbike-P4
Airbike-P8
Icarus
Red Devil
LEGO World 2006
Brickworld 2007
LEGO World 2007
Airbike-V
Villa DeWitte
Surfing
This is my first house: Villa DeWitte.

It is made from 3 Creator Houses (Set 4956) and some additional parts. I build it over a couple of months and it is still not completely finished.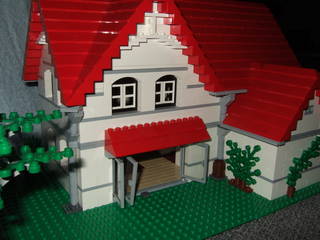 ---

This is the first iteration. The roof is still a mock-up to get an idea of the look. The garage is from the original set. There are three doors to the patio, of which the middle can slide to the side. Notice also the roof beams.



---

This is the next iteration. The roof is now complete and a little bit larger then the original mock-up.



---

Here the first floor is shown with the hallway, the kitchen and the toilet.



---

This is the second floor. There are no details yet.



---

Here the red roof above the patio doors are replaced by a white-and-blue shades. The outline of the patio is also indicated. On the backside I've added a bathroom window



---

Here is the second floor again, but now with more details. There is now a bathroom with a shower. The two bedrooms both have closets.