Content
Home
Articles
Gallery
Books
Lego
Personal
Links
Help
Lego
Airbike-T
Airbike-T Mark 2
Airbike-P4
Airbike-P8
Icarus
Red Devil
LEGO World 2006
Brickworld 2007
LEGO World 2007
Airbike-V
Villa DeWitte
Surfing
Here is my second podracer, the model P8, with 8 jet engines. It's nickname is "Otto". With 8 jet engines it is much more powerful then the Airbike-P4. The jet engine modules can pivot for tighter turns to compensate for the higher speeds,but this makes this podracer more difficult to steer.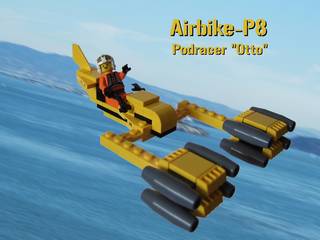 Model
:
Airbike-P8, Podracer "Otto"
Color
:
Yellow
Engine
:
8x Jet Engine
Size
:
20 x 14 x 5 studs
Details
:
Pivoting Jet Engine modules.
Hinged rudder to aid steering.
---
More images: